Originally published on MLB.com on February 7, 2023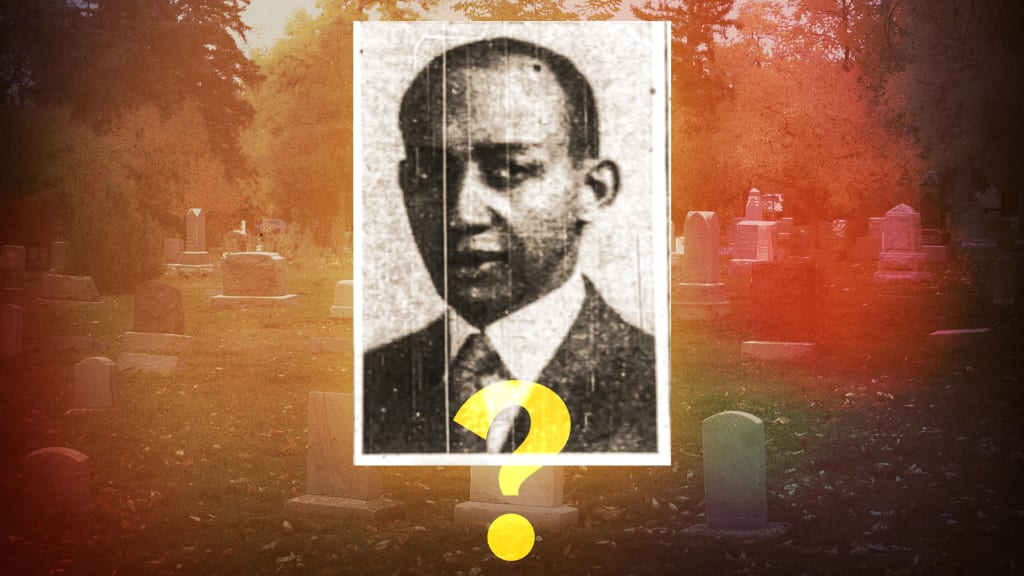 Photo via Vince Ciaramella, Art by Tom Forget
It's getting late in the day and shadows are descending on North Braddock's Monongahela Cemetery -- making the place feel slightly more eerie than usual. But Vince Ciaramella doesn't mind. He's there for a good reason. He's there to shed some light on a small corner of the grassy darkness.
Ciaramella, with his wife, Erika, and 7-year-old son, Enzo, takes out a map of Monongahela and begins looking around, measuring what he sees on the paper to what's right in front of him. The city of Pittsburgh lies sprawled out in the background. He finds where he should be looking and peeks up to see a flag planted into a speck of land in between a few other gravestones.
There it is. That's the spot.
He hurriedly walks over with his family and has his son stand on the unmarked plot for a photo. Ciaramella pins the area to his GPS so he knows where it is for next time.
There's no marker (yet), but laid to rest under the dirt is former Black baseball player and successful local businessman Ernest "Pud" Gooden. The infielder once played for the historic Pittsburgh Keystones and faced off against the great Rube Foster. Ciaramella will work to have his gravestone put in by Memorial Day Weekend. It will be the first of many more to come.
"A lot of these guys were marginalized, and in death they were forgotten," Ciaramella, a Pittsburgh native and social studies teacher, told me in a Zoom call. "We're trying to right the wrongs of the past and hopefully get them some attention."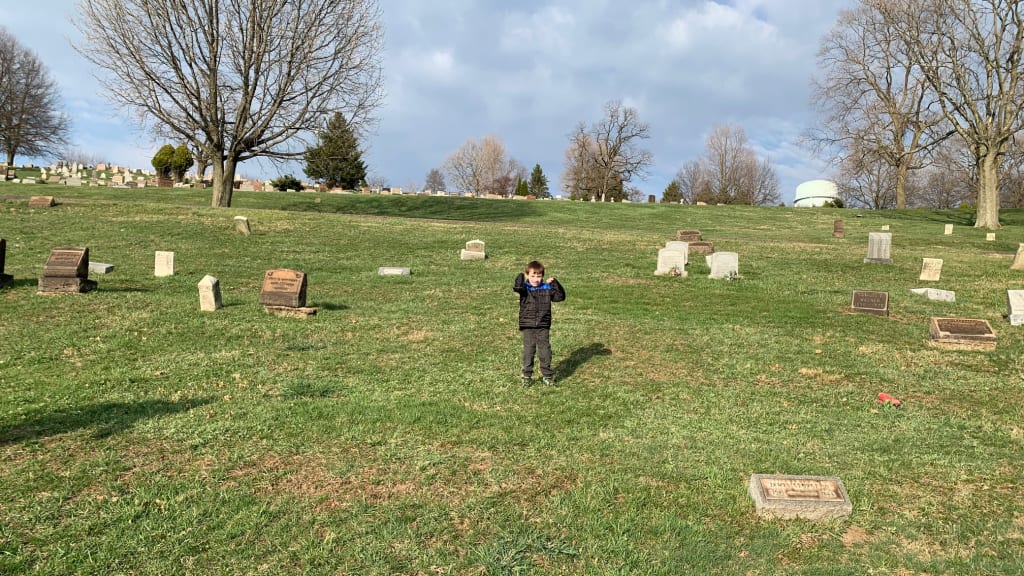 Enzo, who his dad calls his "photo documentation assistant," poses by Ernest Pud Gooden's burial spot. (Photos courtesy of Vince Ciaramella)
Growing up in Pittsburgh, Ciaramella has always been a huge fan of baseball, baseball history and Negro League baseball history. It's all so ingrained in the Steel City that it's impossible to get away from.
"When you're living in Pittsburgh, man, it's like if you live in Gettysburg, right? You can't escape Gettysburg," Ciaramella said. "You've got Pirates history, Grays history, Crawfords history -- you can't escape it. You're born knowing who Josh Gibson is. You know who Honus Wagner is. That's just the way it goes."
Ciaramella really became fascinated by Pittsburgh's rich Black baseball history in the mid-1990s, when he stumbled upon an article about Dave and Willie Pope. He realized the two brothers used to play baseball on a field next to his grandparents' house. Willie went on to throw a no-hitter for the New York Cubans in 1947 and star for the Grays on their championship team in '48. Dave became one of the first Black players to play in the Majors when he debuted for Cleveland in 1952. The outfielder nearly upstaged Willie Mays' famous Catch when he almost robbed Dusty Rhodes of his game-winning, 10th-inning homer in that same game.
Fast forward 25 years later to 2020: Ciaramella and his family -- like a lot of us -- started going on long walks during the Covid pandemic. Most of the time, because they found it safer than parks, those walks were in graveyards. He admits that may sound weird, but Ciaramella made it fun -- tracing his genealogy and then finding Major Leaguers who were buried in plots in and around Allegheny County. His family even wrote a couple books about their journey through baseball's past. But one finding didn't sit well with Ciaramella.
"My wife and I found over 50 graves of Negro League players just in Allegheny County," Ciaramella told me. "And when I was putting pictures together for the second volume of 'Greats in the Graveyard,' I was like, 'Man, there's a lot of empty space. There aren't a lot of grave markers.' When all's told, there are 17 unmarked graves in Allegheny County for Negro League players. But there could be as many as 25-26."
The issue of unmarked graves among Negro League players has been an issue organizations have worked to rectify for years. Ciaramella is hoping to do his part in Pittsburgh. Starting with Gooden, Ciaramella's goal is to mark the first 17 and then any and all of the others that he can find.
How does the process work? The first step is to search for the player's name on Ancestry.com and find his death certificate. Most deaths prior to 1970 will be listed. At the bottom of the certificate will be a note where the person was buried or interred. The next step is to call that specific graveyard and see if they have them.
"With Gooden, they said, 'Yes, we have him.' I said, 'OK, is there a marker?' They said, 'No,'" Ciaramella explained. "I said, 'OK what section is he in? They said, 'Section 10. Here's a little map of the cemetery and we'll put a little dot here of more or less where he's at.'"
The cemetery also put a flag in the ground where Gooden was laid to rest so Ciaramella and his family could easily find it.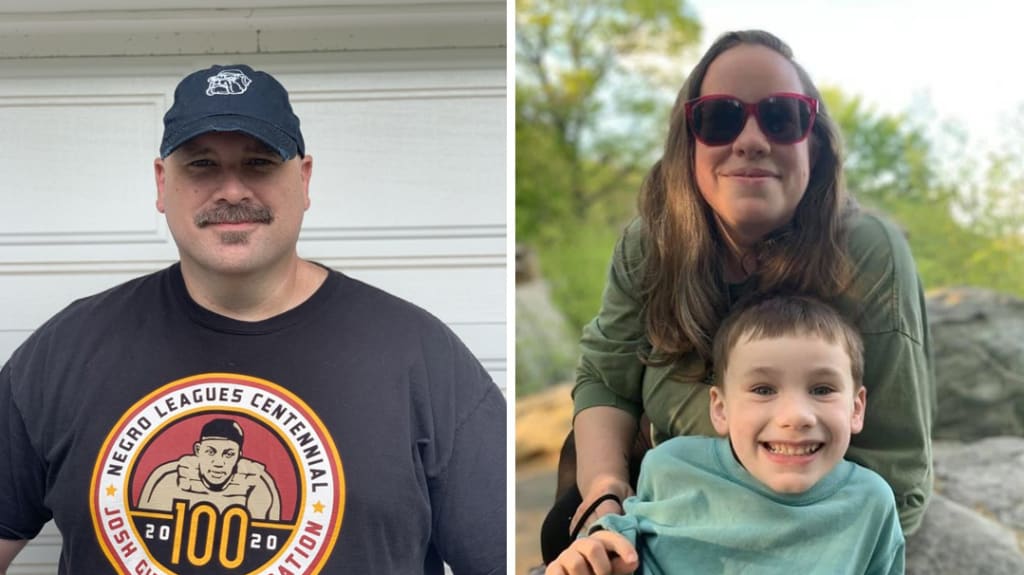 Vince Ciaramella on the left, Erika and Enzo on the right.
Then comes the gravestone. Ciaramella has been working with the Josh Gibson Foundation to sponsor the headstones -- an organization that's run by Josh's great-grandson, Sean. The Foundation will not only pay for the marker to be put in the ground, but there also will be something called a microsite. It's a cool, little addition that'll make the spot stand out and educate people to who this person was.
"When you go to the grave, there's gonna be a wooden sign on a stake with a QR code," Ciaramella said. "So when you walk up to the sign, you can scan the QR code with your phone and it'll bring up his biography. That way it's a more interactive experience."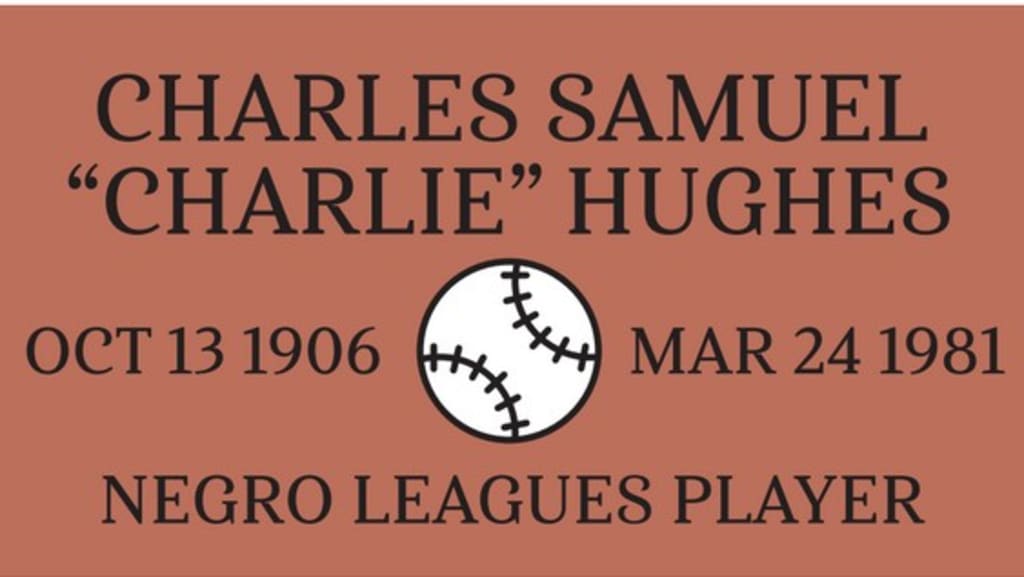 A mockup of what the grave markers will look like.
Although Ciaramella already knows the unmarked locations of the 17 Negro Leaguers, he says this process will take years. It's all based on donations to the Gibson foundation. He's hoping to maybe get two or three done every 12 months. The time it takes matters little to the value it provides.
"The Ernest Goodens, the Lefty Williamses -- who remembers them?" Ciaramella told me. "But they added something to the game. They need to get the recognition they deserve."
Ciaramella also hopes his mission will spread and tempt future generations to take more of an interest in this giant, but often overlooked, piece of baseball history. Even kids in his own classroom at Insight Pennsylvania.
"I've asked students, but nobody's really taken the bait yet," Ciaramella told me. "I'd like to get some of them involved eventually. If not directly with me, at least show them how to do it. Say they live in Philadelphia or Harrisburg or wherever, they can do it on their end. Maybe it'll just catch on like wildfire ..."
Vincent Ciarmella is a teacher at Insight Pennsylvania Charter School. To learn more about ISPA visit https://insightpa.k12.com/